2017 NOMINEES
JOIN CHAT & NOMINATE CLASS OF 2016
@ OUR FACEBOOK GROUP
CLASS OF 2016
Roy Demeo
Johnny Torrio
CLASS OF 2015
Frank "The Enforcer" Nitti
Charles Dean O'Banion
Frank "Ciccio" Milano
CLASS OF 2014
James T. "Blackie" Licavoli
CLASS OF 2013
Bugsy Siegel
CLASS OF 2012
No Inducties
CLASS OF 2011
Don Vito Genovese
Joe Bonanno
Charles "Lucky" Luciano
John Gotti
Meyer Lansky
CLASS OF 2009
Albert Anastasia
Salvatore Maranzano
Joe "The Boss" Masseria
Alphonse Capone
Carlo Gambino
FEATURED MEMBER: John Joseph Gotti Jr.
MHOF Featured Member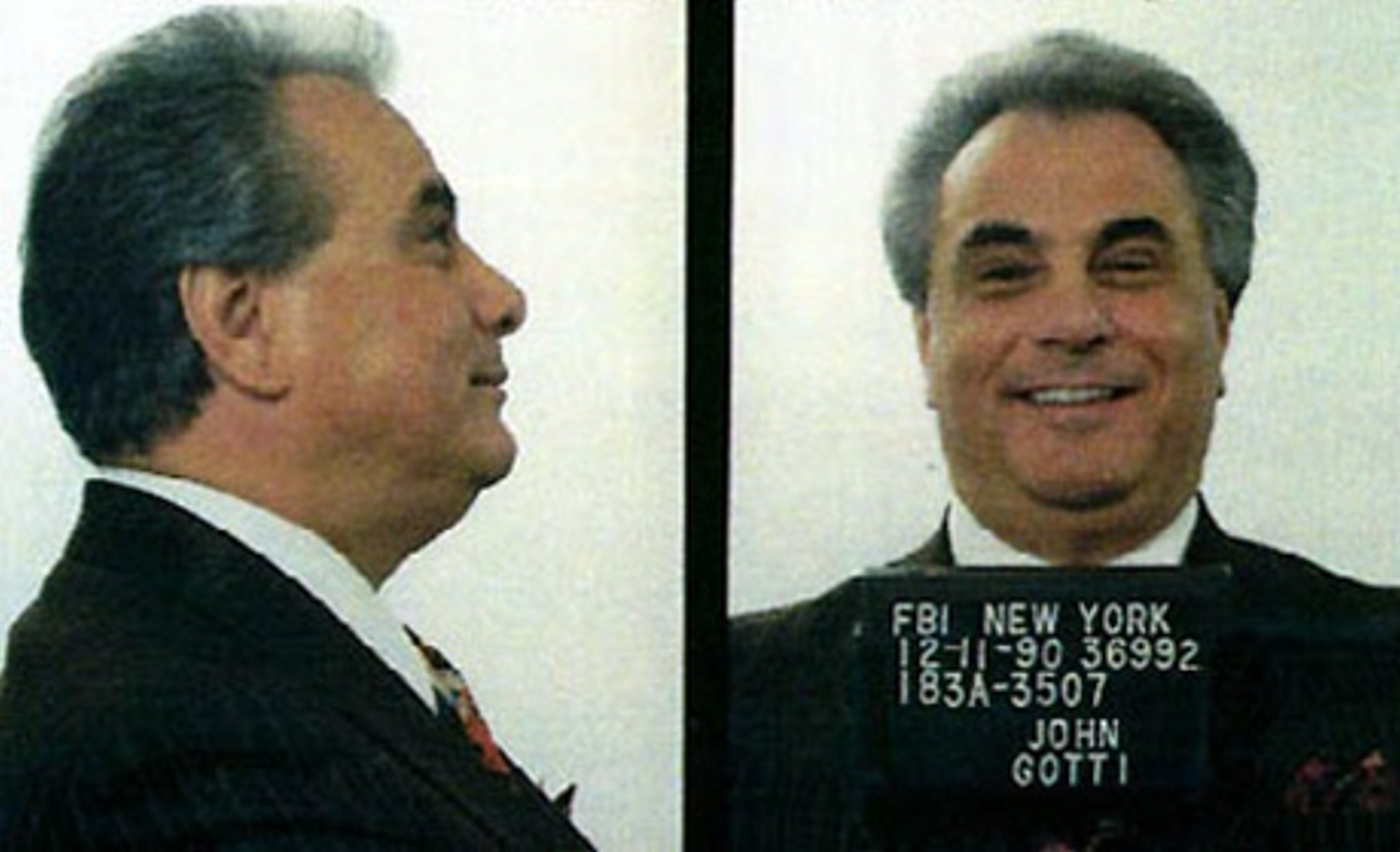 John Gotti
John Joseph Gotti, Jr. (October 27, 1940 – June 10, 2002) was an American mobster who became the Boss of the Gambino crime family in New York City. Gotti and his brothers grew up in poverty. Operating out of the Ozone Park neighborhood of Queens. Gotti quickly rose to prominence, becoming one of the crime family's biggest earners and a protégé of Gambino family underboss Aniello Dellacroce.
After the FBI indicted members of Gotti's crew for selling narcotics, Gotti took advantage of growing dissent over the leadership of the crime family. Fearing he and his men would be killed by Gambino crime family Boss Paul Castellano for selling drugs, Gotti organized the murder of Castellano in December 1985 and took over the family shortly thereafter. This left Gotti as the boss of one of the most powerful crime families in America, one that made hundreds of millions of dollars a year from construction, hijacking, loan sharking, gambling, extortion and other criminal activities. Gotti was one of the most powerful crime bosses during his era and became widely known for his outspoken personality and flamboyant style, which gained him favor with much of the general public. While his peers avoided attracting attention, especially from the media, Gotti became known as the "The Dapper Don" for his expensive clothes and personality in front of news cameras. He was later given the nickname "The Teflon Don" after three high-profile trials in the 1980s resulted in his acquittal, though it was later revealed that the verdicts were the result of jury tampering and juror misconduct. Law enforcement authorities were not impressed with his style or reputation, however, and they continued gathering evidence against Gotti that helped lead to his downfall.
Gotti's criminal career began when he became an associate of Carmine Fatico, a capo in what became the Gambino family after the murder of Albert Anastasia. Together with his brother Gene and Ruggiero, Gotti carried out truck hijackings at Idlewild Airport (subsequently renamed John F. Kennedy International Airport. During this time, Gotti befriended fellow mob hijacker and future Bonanno family boss Joseph Massino and was given the nicknames "Black John" and "Crazy Horse." It was also around this time that Gotti met Gambino underboss Aniello "Neil" Dellacroce.
Identified as both Paul Castellano's likely murderer and his successor, John Gotti rose to fame throughout 1986. At the time of Gotti's takeover the Gambino family was regarded as the most powerful American mafia family, with an annual income of $500 million. In the book Underboss, Gravano estimated that Gotti himself had an annual income of not less than $5 million during his years as boss, and more likely between $10 and $12 million.
Gotti was incarcerated at the United States Penitentiary at Marion, Illinois. He spent the majority of his sentence in effective solitary confinement, only allowed out of his cell for one hour a day. His final appeal was rejected by the U.S. Supreme Court in 1994.
BLACK HAND
Black Hand (Italian: La Mano Nera) was a type of extortion racket. It was a method of extortion, not a criminal organization as such, though gangsters of Camorra and the Mafia practiced it
The roots of the Black Hand can be traced to the Kingdom of Naples as early as the 1750s. Typical Black Hand tactics involved sending a letter to a victim threatening bodily harm, kidnapping, arson, or murder. The letter demanded a specified amount of money to be delivered to a specific place. It was decorated with threatening symbols like a smoking gun or hangman's noose and signed with a hand imprinted in black ink; hence the Italian name 'La Mano Nera (The Black Hand) (Sicilian: 'A Manu Niura) which was readily adopted by the American press as "The Black Hand Society".
The tenor Enrico Caruso received a Black Hand letter, on which a black hand and dagger were drawn, demanding $2,000. Although Caruso decided to pay, he again received a demand for $15,000. Realizing the extortionists would continue to demand money, he reported the incident to the police who, arranging for Caruso to drop off the money at a prearranged spot, arrested two Italian-American businessmen who retrieved the money. On occasion, Black Handers threatened other gangsters and usually faced retaliation. In Chicago, the notorious Shotgun Man murdered dozens of people in broad daylight on the same street corner during a decade-long reign of terror.
If law enforcement closed in, gangsters answered with their usual style: assassination. Victims include New Orleans police chief David Hennessy and NYPD lieutenant Joseph Petrosino. They intimidated potential witnesses even in the courtroom.
The Black Hand practice in the United States disappeared in the mid 1920s after a wave of negative public opinion led organized crime figures to seek more subtle methods of extortion.
Mafia Ten Commandments
In November 2007 Sicilian police reported to have found a list of "Ten Commandments" in the hideout of mafia boss Salvatore Lo Piccolo. They are thought to be guidelines on how to be a good, respectful and honourable mafioso.
No one can present himself directly to another of our friends. There must be a third person to do it.
Never look at the wives of friends.
Never be seen with cops.
Don't go to pubs and clubs.
Always being available for Cosa Nostra is a duty - even if your wife is about to give birth.
Appointments must absolutely be respected. (probably refers to formal rank and authority.)
Wives must be treated with respect.
When asked for any information, the answer must be the truth.
Money cannot be appropriated if it belongs to others or to other families.
People who can't be part of Cosa Nostra: anyone who has a close relative in the police, anyone with a two-timing relative in the family, anyone who behaves badly and doesn't hold to moral values.
The pentito Antonino Calderone recounted similar Commandments in his 1987 testimony:
These rules are not to touch the women of other men of honour; not to steal from other men of honour or, in general, from anyone; not to exploit prostitution; not to kill other men of honour unless strictly necessary; to avoid passing information to the police; not to quarrel with other men of honour; to maintain proper behavior; to keep silent about Cosa Nostra around outsiders; to avoid under all circumstances introducing oneself to other men of honour.